May 2016
F4CP NATIONAL PR, MARKETING AND
SOCIAL MEDIA CAMPAIGN REPORT
This Month's

TOP HEADLINES
May is National Correct Posture Month
Each year, the F4CP celebrates National Correct Posture Month (NCPM) during the month of May with the distribution of educational materials, print communications and social media campaigns. Share this information with your patients and community.
Check out the F4CP's latest infographic on posture below:
This year, the F4CP will also sponsor internationally renowned posture expert, Steven Weiniger, DC, as a speaker at the 2016 Institute of HealthCare Consumerism (IHC) FORUM & Expo, May 24-26, 2016, Atlanta, Ga.
Dr. Weiniger will lead a workshop featuring strategies to eliminate pain and successfully address tech neck and back to promote productivity and stress management in the workplace, May 25, 2016, 11:00 a.m.—12:00 p.m.
For more information about the event, read the F4CP press release here.
In honor of National Correct Posture Month, Dr. Steven Weiniger is offering a free toolkit for DCs to build awareness and grow their practice.
The free toolkit offers:
Flyers

Poster

Infographics

Social media shares
How-to Videos
FREE Educational Webinar
Best uses for free Posture Month toolkit

Leverage social media for more engagement

Exciting tech you need to see
How to engage your patients
To sign up for your free toolkit, visit PostureMonth.org.
Toolkit link: http://posturemonth.org/free-posture-month-flyers
F4CP Actively Leverages Gallup/Palmer Findings
The "Gallup-Palmer College of Chiropractic Inaugural Report: Americans' Perceptions of Chiropractic" documents public uncertainty around the education, coverage, safety and trust in the level of service provided by a DC.
The F4CP has implemented a positive press campaign to correct the misperceptions the public has about chiropractic care. To date, the F4CP has produced and distributed campaign resources addressing the correct education requirements of a DC - which is a minimum of seven years of higher level education - coverage of chiropractic care, and safety - a campaign which just launched this month.
Watch the F4CP's latest public service announcement entitled: "F4CP Addresses Results of 2015 Gallup-Palmer Inaugural Report: Americans' Perception of Chiropractic," here.
To view the F4CP's additional resources based on the findings of this report, please visit www.f4cp.com.
Stay tuned for the F4CP's next campaign on TRUST, which will launch during the month of July.
Safety Resources for YOUR Social Platforms
According to "Gallup-Palmer College of Chiropractic Inaugural Report: Americans' Perceptions of Chiropractic," nearly 25 percent of U.S. adults somewhat or strongly agree that chiropractic care is dangerous, and more than a third say they don't know if it is dangerous. It is important to note that the percentage of individuals that feel chiropractic care is unsafe is among nonusers of chiropractic care.
In response to the findings, the F4CP has created new campaign resources which validate chiropractic care as a safe and effective alternative for pain management.
Chiropractic care is a safe, effective first option for pain management: back, neck, acute or chronic neuro-musculoskeletal conditions, and headaches - among other conditions. To view the F4CP's latest press release on the safety of chiropractic, click here.
To view the latest ad, see below: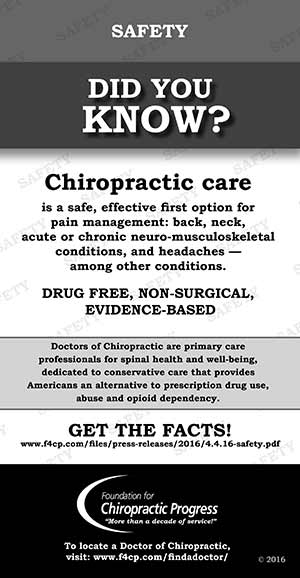 Additionally, please view the latest advertorial and social syndication on the topic of safety below.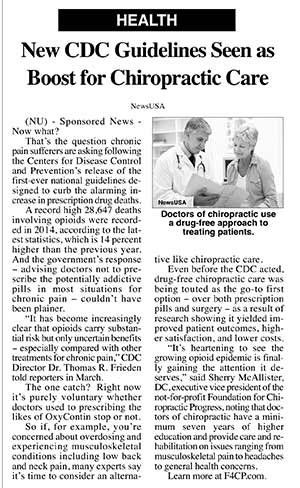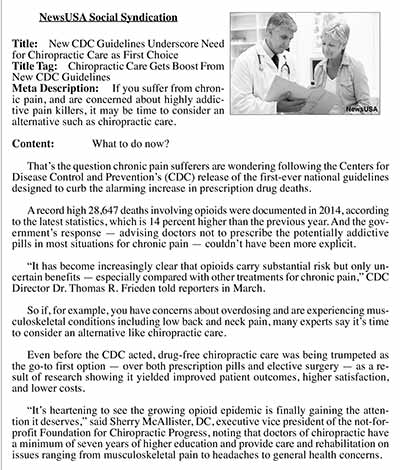 Click images above to enlarge.
Social Media ACCELERATOR™ Takes Off
The F4CP's brand-new social media ACCELERATOR™ campaign has proven to be a big hit for its members.
F4CP members quickly took to Facebook to share the distributed post below.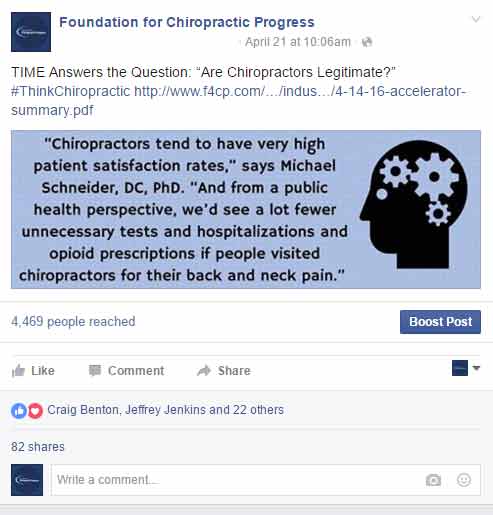 This initiative is specifically designed to help our members expand their local practices, and will provide doctors with fresh, relevant and 'ready-to-post' social media content to further educate and inform fans and followers, as well as existing and new patients, about the benefits of chiropractic care.
Each week, the F4CP will deliver brand-new social media messaging to its members, who can simply 'copy' and 'paste' directly to their social media platforms. If you need assistance posting the provided content or setting up personalized social media platforms, please contact F4CP Director of Marketing, Alexis Lignos, at alexis@f4cp.com, who will be more than happy to provide step-by-step instructions.
For additional information, please read the brief article Dynamic Chiropractic published about the F4CP's Accelerator™ campaign below.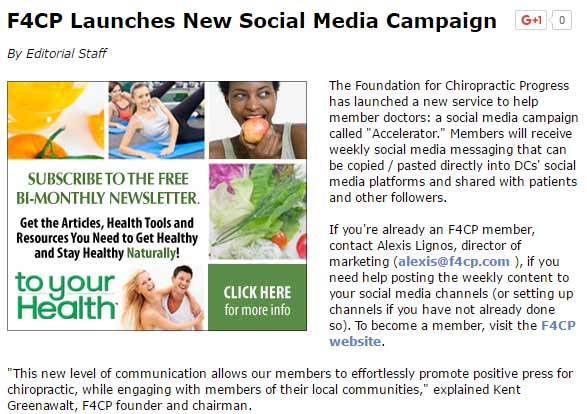 Sponsors: Take Advantage of Order Button
The F4CP has launched an easy-to-use Web-based feature, enabling doctors to order products, supplies and services from our sponsors that donate at the Silver, Gold, Platinum, and Founder's Circle levels.
We encourage F4CP members to make our sponsors their preferred vendors.
This new benefit is the F4CP's way of thanking sponsors for their support.
The new order button is featured on the F4CP Website landing page at www.f4cp.com. When doctors click on the ordering button, they'll be directed to a site which features:
Sponsor's company name, logo and detailed descriptor
Sponsor's company URL – which will direct doctor members to learn more about products and services
The new benefit enables doctor members to:
Learn more about F4CP valued sponsors and their products and services
Place orders directly with the company
Support those who support the profession
For more information about the new purchase order site, read the press release here.
We would love to hear you feedback. If you have any questions and/or comments, please contact F4CP Director of Marketing, Alexis Lignos at alexis@f4cp.com.
F4CP Partners with Dr. Lani Simpson to Emphasize Good Health
The F4CP has joined forces with Lani Simpson, DC, CCD, to raise awareness about the importance of healthy living and wellness.
Dr. Simpson will host a special presentation on PBS entitled: "Stronger Bones, Longer Life," where she informs viewers about how to maintain good bone health.
The show will air at various times in different regions during June 4th-12th. To find out the exact date/time in your area, check your local listing.
To view a sneak preview of the special, click here.
Contributor Spotlight of the Month: Activator Methods International®
Much of the F4CP's success can be attributed to its contributors. This month, we recognize industry leader Activator Methods International® for its long-standing generosity and dedication to the F4CP and chiropractic profession.
For many years, Activator has supported and advocated not only for the F4CP, but also on behalf of national and international chiropractic colleges, as well as global chiropractic initiatives.
F4CP is also pleased to announce that Arlan W. Fuhr, DC, co-founder and chairman, Activator Methods International, Ltd., has been appointed to the F4CP Board of Directors. Dr. Fuhr is the co-inventor of the Activator Adjusting Instrument and the Activator Method Chiropractic Technique – the world's most commonly utilized instrument adjusting chiropractic technique performed by over 70 percent of all DCs worldwide.
His seasoned expertise in the areas of chiropractic education, research and advancement will help to bring greater awareness to the F4CP and chiropractic profession.
"I have long believed in the power of education and advocacy to advance the mission of chiropractic," said Dr. Fuhr. "Continued research and development of new knowledge – in chiropractic, as well as in other health disciplines – is key to moving global populations to a new, higher standard of health and wellness."
The F4CP encourages individuals, doctors and associations to support organizations that support the profession. To view a list of current F4CP vendor supporters, visit: www.f4cp.com/contributors.
Doctor Spotlight of the Month: Dr. Oliver Smith
This month, the F4CP spotlights Dr. Oliver Smith for the continued support he has shown the F4CP and chiropractic profession over the years.
Since 2007, Dr. Smith has contributed a minimum of $40 per month to the F4CP - totaling $3,640 to date. Dr. Smith's generous commitment to the F4CP greatly influences the organization's ability to generate positive press resources -- including press releases, advertisements, print advertorials, television/radio public service announcements and sponsored research -- and further inform the public about the benefits of chiropractic care.
Dr. Smith is a second generation DC, and his son is a third generation DC and member of the Texas Chiropractic Association Board of Directors. Additionally, Dr. Smith served as past president of the Federation of Chiropractic Licensing Boards (FCLB) and is the current Chairman of the Board of Trustees at Parker University.
REMINDER: Utilize National DC Directory
The nationwide DC directory provides the public with an easy way to search for local doctors of chiropractic. As a member of the F4CP, your name and contact information is listed on the directory. If you are a contributor of $25 per month or more, you also receive a complimentary enhanced profile, which includes information about your practice, office photos, patient testimonials and more.
Please access your account, at your earliest, to confirm all contact information is complete and up-to-date.
A link to the directory, www.f4cp.com/findadoctor, appears on all F4CP advertisements, as seen in the ad below.
Benefits of Membership
Last month, the F4CP hosted another Group Advisory Committee webinar for states that are enrolled in Group Membership. The webinar presentation – which can be seen here – detailed how to develop an effective public service announcement and attracted leadership from six State Associations.
This month, the F4CP will host its next webinar on May 19th, 2016 at 12:00pm ET detailing on-site corporate health clinics and how YOU can help your local DCs get involved in the corporate world.
To register for the upcoming F4CP webinar, click here.
When the webinar begins, you will be connected to audio using your computer's microphone and speakers.
If you prefer to use your phone, you must select "Use Telephone" after joining the webinar and call in using the numbers below:
United States: +1 (213) 929-4232
Access Code: 360-320-221
More than
11,000 members and

GROWING!

Join state and national groups, colleges, vendors, doctors and students nationwide as a monthly contributor to the F4CP.
ONE MISSION - POSITIVE PRESS FOR THE PROFESSION
F4CP BOARD MEMBERS
Kent S. Greenawalt Chairman
Don Petersen
Gerard Clum DC
Joe Doyle
J. Michael Flynn DC
Marshall Dahneke
Charles DuBois

Fabrizio Mancini DC
Thomas Klapp DC
Carol Ann Malizia DC
Mark Sanna DC
Mickey Burt DC
William Meeker DC
Lance Cohen DC
Greg Harris

Michele Maiers DC, PhD
Brian McAulay DC, PhD
Kray Kibler
Robert Moberg
Kris Dowell
Ray Foxworth DC
Arlan Fuhr DC
F4CP STAFF
Sherry McAllister, D.C., M.S (Ed)
Alexis Lignos
Megan Kennedy
Marta Cerdan
Nicole Houston
The continued growth of the Foundation is dependent upon more doctors, vendors and students getting involved. All of the monthly contributors can be found at the website. Encourage your list of contacts to join you in support of the profession's successful positive press campaign. Forward this newsletter to them. This campaign is making a difference by informing patients everywhere about the benefits of chiropractic care!! OVER ONE HUNDRED BILLION POSITIVE MESSAGES ON CHIROPRACTIC DISTRIBUTED AND TRACKED OVER THE LAST THREE YEARS!

The Foundation for Chiropractic Progress
P.O. Box 869 | Georgetown, CA 95634 | Toll Free: 866.901.F4CP (3427) | Fax: 866.333.2774
Copyright © The Foundation for Chiropractic Progress All rights reserved.