July 2016
F4CP NATIONAL PR, MARKETING AND
SOCIAL MEDIA CAMPAIGN REPORT
This Month's

TOP HEADLINES
Chiropractic Summit Unanimously Supports Medicare Reform, Elects New Chairman at Spring Meeting
Original Source: Chiropractic Summit Arlington VA 22209 www.chirosummit.org admin@chirosummit.org
"The Chiropractic Summit, an umbrella leadership group of prominent chiropractic organizations, met on April 28th in Phoenix, AZ. and approved, by unanimous motion, the following historic statement of agreement:
Unanimous Support for Medicare Reform The Chiropractic Summit Partners unanimously supports the initiative to remove discrimination against chiropractic patients in Medicare and garner public support for such an effort.
This effort will require a profession-wide grassroots initiative the likes we have never seen before in order to garner public support from our patient population, friends, and families. The Chiropractic Summit fully understands that the time has come to end the discrimination that our profession has faced for far too long.

"We as a profession have unanimously achieved a milestone with this motion telling our brothers and sisters in chiropractic that we the leaders of our great profession have agreed to stop the discrimination against the public we serve," said Summit chair Lewis J. Bazakos, MS, DC. "That being said, we will need everyone in this profession to rise to the task at hand when called upon to support the grassroots initiatives of our member organizations."

Please join with the Chiropractic Summit in this historic effort to answer the call to action when asked. Our patients' rights to receive the care they deserve depends upon each and every one of us."
To read the original release in its entirety click here.
COMING SOON: F4CP Promotes White Paper in Major Insurance Publication
Over the next few months, the F4CP will advertise its positioning paper, 'Chiropractic: A Safer Strategy Than Opioids,' in AHIP Solutions SmartBrief.
AHIP (America's Health Insurance Plans) is a national association representing nearly 1,300 member companies providing health insurance coverage to more than 200 million Americans.
Reaching more than 50,500 subscribers daily, F4CP chose to advertise in AHIP Solutions SmartBrief -the subscription-only digital news briefing created specifically for health plan executives and professionals – to raise awareness of the value of chiropractic care, and in turn guide health plans to consider more conservative and effective care options for members.
Advertisement run dates are as follows:
August 9th
August 18th
September 8th
To subscribe to AHIP Solutions SmartBrief, click here.
Stay tuned for additional details!
Brand-New Opioid Resources
Last month, the F4CP launched its landmark positioning paper, "Chiropractic: A Safer Strategy Than Opioids," which continues to be distributed to national media, the chiropractic profession and business leaders throughout the country.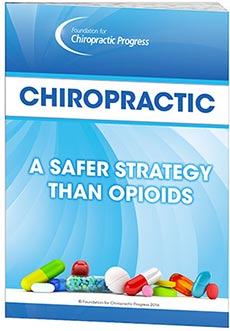 To download a copy of the position paper, click here.
In addition to the white paper, the F4CP developed an entire campaign around the dangers of opioid prescription painkillers and the benefits of alternative care, specifically chiropractic.
To view the latest infographic, see below:
A well-designed infographic helps to communicate topics in a captivating manner. Infographics are another method for generating positive press about chiropractic and directly complement campaign activities, such as social media. View the new F4CP infographics below and feel free to share them on your own social media platforms.
The F4CP developed a print advertisement, which was featured in The Wall Street Journal, Roll Call and Politico during the month of June. To view the ad, please see below:
A public service announcement is currently underway.
To view a complete list of resources, please visit www.f4cp.com.
World Federation of Chiropractic Promotes F4CP White Paper
After the distribution of 'Chiropractic: A Safer Strategy Than Opioids,' the World Federation of Chiropractic took to Facebook to promote the positioning paper and support the F4CP and chiropractic profession.
Dr Richard Brown, Secretary-General of the World Federation of Chiropractic, said: "The WFC is delighted to work with F4CP in supporting the tremendous efforts it makes to educate the public about chiropractic. The catastrophic effects of widespread opioid prescription for back pain and other musculoskeletal disorders are well documented and by helping members of the public to discover the effective, drug-free and safe alternatives that exist through the provision of chiropractic care, F4CP is truly impacting positively on the health of Americans."
Within a few days, the WFC's social media post had generated more than 1,540 views. Thank you for your ongoing support, WFC, it is much appreciated.
ICA Meets With West Virginia Attorney General's Office on Opioids Best Practices and Chiropractic
Recently, ICA President George Curry, DC, and members of the ICA senior professional staff met with representatives of the West Virginia Attorney General's office to discuss strengthening the state's opioids best practices program, develop the most effective set of policies and to generate statewide support for their implementation.
Along with ICA Practice Guidelines, the ICA also presented West Virginia policy makers with the F4CP's latest white paper, 'Chiropractic: A Safer Strategy Than Opioids.'
The F4CP encourages YOU to share the paper with your local legislators, health care policy makers, community members and more.
For more information, read the press release issued by the ICA here.
New TRUST Resources for YOUR Social Platforms
According to "Gallup-Palmer College of Chiropractic Inaugural Report: Americans' Perceptions of Chiropractic," more than half of U.S. adults articulate positive opinions about doctors of chiropractic (DC) and consider them to be effective at managing neck and back pain.
In response to the findings, the F4CP has created brand-new resources detailing the high levels of patient satisfaction and trust found in the care provided by doctors of chiropractic.
To read the F4CP's latest press release on trust, click here.
See national advertisement below:
We invite you to view the accompanying matte release and social syndication below:
F4CP Aligns with U.S. Department of Veterans Affairs
The use of chiropractic services and the chiropractic workforce in the U.S. Department of Veterans Affairs (VA) has grown substantially since their introduction over a decade ago, according to a new study published in the Journal of Manipulative and Physiological Therapeutics.
Lead author of the study, Anthony J. Lisi, DC, Director of the VA Chiropractic Program and Chiropractic Section Chief at the VA Connecticut Healthcare System, worked alongside the F4CP to develop a press release which highlights chiropractic care as an important aspect in the management of spinal pain conditions among veterans.
To read the press release, click here.
Social Media ACCELERATOR™ Takes Off
The F4CP's brand-new Social Media ACCELERATOR™ campaign has proven to be a big hit for its members.
The Social Media ACCELERATOR™ has begun building traffic since its inception in March 2016. This initiative is specifically designed to help our members expand their local practices, and will provide doctors with fresh, relevant and 'ready-to-post' social media content to further educate and inform fans and followers, as well as existing and new patients, about the benefits of chiropractic care.
Each week, the F4CP will deliver brand-new social media messaging to its members, who can simply 'copy' and 'paste' directly to their social media platforms. If you need assistance posting the provided content or setting up personalized social media platforms, please contact F4CP Director of Marketing, Alexis Lignos, at alexis@f4cp.com, who will be more than happy to provide step-by-step instructions.
For additional information about the campaign and its ongoing success, read the press release here.
Inclusion of Chiropractic Within On-Site Clinics
As a growing number of corporate on-site clinics launch, worksite health providers are looking to the F4CP as an expert resource to connect doctors of chiropractic to on-site clinics and integrated practice settings.
Employers are crediting access to chiropractic care and communication among providers for the decrease in hospital costs, reduced use of opioid painkillers and high patient satisfaction scores.
For additional information about the value of chiropractic care within on-site corporate health clinics, download the F4CP's white paper entitled: 'The Growing Role of Doctors of Chiropractic in On-Site Corporate Health Clinics' here, and watch the latest public service announcement here.
Contributor Spotlight of the Month: California Chiropractic Association
Much of the F4CP's success can be attributed to its contributors. This month, we recognize California Chiropractic Association (CCA) for its long-lasting commitment to the F4CP and chiropractic profession.
Since 2007, California Chiropractic Association has generously contributed $500 per month. Just last month, CCA's Board of Directors approved enrollment in the F4CP's Group Membership Program.
It is because of our valuable contributors, including California Chiropractic Association, that the F4CP is able to further progress its campaign and reach elevated levels of success for the profession.
"CCA chose to support the Foundation in this capacity because the work it is doing gives our profession greater exposure and opportunities than any other effort we have seen. By playing at a higher level, CCA helps make the Foundation's impact even greater. On top of that, group membership is a fantastic member benefit! I encourage other State Associations to look closely at this program and consider Group Membership," remarked Dr. Brian Stenzler, CCA Immediate Past President.
The F4CP encourages individuals, doctors and associations to support organizations that support the profession. To view a list of current F4CP vendor supporters, visit: www.f4cp.com/contributors.
Doctor Spotlight of the Month – Dr. Rick McMichael
This month, the F4CP spotlights Dr. Rick McMichael for the support he has shown to the F4CP and chiropractic profession.
Since 2006, Dr. McMichael has contributed $3,075 to the F4CP, greatly influencing the organization's ability to generate positive press resources -- including press releases, advertisements, print advertorials, television/radio public service announcements and sponsored research -- and further inform the public about the benefits of chiropractic care.
Dr. McMichael currently serves as the Second Vice-President of The World Federation of Chiropractic (WFC), and is the Past President of both the American Chiropractic Association (ACA) and Congress of Chiropractic State Associations (COCSA).
"The Foundation for Chiropractic Progress has accomplished what no other chiropractic organization has been able to accomplish... formulating and running a sustained positive PR program for the chiropractic profession. This is a tremendous accomplishment! F4CP is working diligently to share the good news about chiropractic health care — something I wholeheartedly support! The Foundation has also played an important role as a Chiropractic Summit partner, bringing valuable PR resources to Summit projects that serve the profession. Every doctor of chiropractic should support F4CP; the Foundation's good work must continue." – Dr. Rick McMichael
Chiropractic College News
This month, the F4CP would like to share exciting news from the U.S. Chiropractic Colleges:
Parker University Appoints New President
The Board of Trustees of Parker University is pleased to announce the appointment of their new president, William E. Morgan, DC. This appointment comes after an extensive nationwide search conducted by the Board of Trustees, which is headed by Oliver "Bud" Smith, DC, Chair of the Board.

In 1998, Dr. Morgan was chosen to establish the first chiropractic clinic at the National Naval Medical Center in Bethesda, Maryland, which later became Walter Reed National Military Medical Center. In 2015, Walter Reed recognized Dr. Morgan with its highest honor for clinical excellence, the Master Clinician's Award. During the last 18 years at the military's most prestigious medical centers, he practiced in an integrative setting providing chiropractic care to the injured troops returning from the wars in Iraq and Afghanistan.

To read the release in its entirety click here.
Palmer College of Chiropractic Appoints New Vice Chancellor for Administration
J. Aaron Christopher, Ph.D., C.P.A., C.F.E., has been named Palmer College of Chiropractic's new vice chancellor for administration, replacing Tom Tiemeier, C.P.A., who'll retire from Palmer in January 2017. Dr. Christopher began work at Palmer on June 13.

Dr. Christopher comes to Palmer most recently from Northeastern State University (NSU), Tahlequah, Okla., where he served as vice president for administration and finance. At NSU he oversaw $30 million in new construction projects; implemented classroom scheduling software to drive efforts in improved facility utilization, energy efficiency and class size management; and renegotiated debt and contracts resulting in savings of more than $1 million. Prior to that he was vice president of business and administration at John F. Kennedy University in Pleasant Hill, Calif. Dr. Christopher was a 2015 San Francisco Bay Area CFO of the Year finalist.

To read the release in its entirety click here.
Athletic TIPS™ Thanks Foot Levelers, Standard Process & Sports Council at Palmer West
Athletic TIPS™ would like to offer its sincerest 'THANK YOU' to Foot Levelers, Standard Process and the Sports Council at Palmer College of Chiropractic – West Campus.
Recently, all three groups have contributed additional, brand-new online tips to be featured on www.tips4sports.org to help recognize, manage and prevent sports-related injuries.
To view a complete list of tips, please visit www.tips4sports.org/press.
CCA Sports & Rehab Symposium to Host Athletic TIPS™ Program
During the 2016 CCA Sports & Rehab Symposium, August 19th-21st, 2016 in Anaheim, CA, Drs. Mindy Mar and Jason Reynolds will lead a two-day Athletic TIPS™ program, offering doctors of chiropractic (DC) CE credit and eligibility for TIPS certification.
During the two-part session, Drs. Mar and Reynolds will address the following topics:
Emergency Medical Procedures (DCs as First Responders)
Concussion Evaluation – On the Field vs. In The Office
Return to Play Criteria
Sports Medicine and Tennis
The dates and times of the program are as follows:
Friday, August 19th
3:30-5:30 P.M.
Saturday, August 20th
8:00am-10:00 A.M.
To register for this program click here.
More than
15,000 members and

GROWING!

Join state and national groups, colleges, vendors, doctors and students nationwide as a monthly contributor to the F4CP.
ONE MISSION - POSITIVE PRESS FOR THE PROFESSION
F4CP BOARD MEMBERS
Kent S. Greenawalt Chairman
Don Petersen
Gerard Clum DC
Joe Doyle
J. Michael Flynn DC
Marshall Dahneke
Charles DuBois

Fabrizio Mancini DC
Thomas Klapp DC
Carol Ann Malizia DC
Mark Sanna DC
Mickey Burt DC
William Meeker DC
Lance Cohen DC
Greg Harris

Michele Maiers DC, PhD
Brian McAulay DC, PhD
Kray Kibler
Robert Moberg
Kris Dowell
Ray Foxworth DC
Arlan Fuhr DC
F4CP STAFF
Sherry McAllister, D.C., M.S (Ed)
Alexis Lignos
Megan Kennedy
Marta Cerdan
Nicole Houston
The continued growth of the Foundation is dependent upon more doctors, vendors and students getting involved. All of the monthly contributors can be found at the website. Encourage your list of contacts to join you in support of the profession's successful positive press campaign. Forward this newsletter to them. This campaign is making a difference by informing patients everywhere about the benefits of chiropractic care!! OVER ONE HUNDRED BILLION POSITIVE MESSAGES ON CHIROPRACTIC DISTRIBUTED AND TRACKED OVER THE LAST THREE YEARS!

The Foundation for Chiropractic Progress
P.O. Box 869 | Georgetown, CA 95634 | Toll Free: 866.901.F4CP (3427) | Fax: 866.333.2774
Copyright © The Foundation for Chiropractic Progress All rights reserved.