August 2016
F4CP NATIONAL PR, MARKETING AND
SOCIAL MEDIA CAMPAIGN REPORT
This Month's

TOP HEADLINES
Dr. Lou Sportelli Supports F4CP White Paper: 'Chiropractic: A Safer Strategy Than Opioids'
Following the publication of the F4CP's positioning paper, 'Chiropractic: A Safer Strategy Than Opioids,' Lou Sportelli, DC, produced a three minute video outlining the risks associated with the prescription opioid painkiller epidemic in the U.S., and the benefits of non-drug, alternative care - specifically chiropractic.
Dr. Sportelli emphasizes the fact that the chiropractic profession is 100 percent supportive of the need to shift public focus away from opioids and toward safe and effective conservative options for pain management.
As an introduction to the video, Dr. Sportelli states,
"Hello. My name is Lou Sportelli, and I have been a practicing chiropractor for more than 50 years. I have seen a lot of issues relating to health care and health care crisis over the years, and I am pleased that the Foundation for Chiropractic Progress has undertaken a reasonable, rational approach to the epidemic of opioids in this country by publishing their recent white paper."
To view the video click here.
Membership Exceeds 15K+
Exciting News: 15,000 practicing doctors of chiropractic (DCs) are now financially supporting the F4CP's mission of positive press for chiropractic.
All F4CP members are listed in the National DC Directory, which is promoted in all campaign PR and marketing material.
The positive press campaign consists of press releases, print advertorials, public service announcements, advertisements, social syndications, infographics, Social Media Accelerators™ and more. Additionally, F4CP members receive complimentary access to all press materials, marketing webinars, tool kits and professional advancement opportunities.
The F4CP recognizes the need for the profession to work together to bring understanding and further awareness of chiropractic care to the consumer public.
For a complete list of membership benefits, please visit: f4cp.com/pledge.
To view the press release click here.
F4CP Issues Media Response
In June, MSN Online republished an earlier article entitled, "9 Plain Truths About Alternative Medicine Doctors Desperately Want You to Know," (originally published in Reader's Digest, October 2011).
Within the article, an MD makes a claim that a number of his patients have suffered strokes following chiropractic neck manipulation.
The F4CP initially responded to this article and claim when the article was published in 2011, and has now reissued a media response including brand-new research on this subject area.
Countless researchers document that there is no significant association between chiropractic visits and vertebrobasilar artery system (VBA) stroke.
To read the F4CP's media response, click here.
F4CP Places White Paper Ad in Major Insurance Publication
Over the next few months, the F4CP will advertise its positioning paper, 'Chiropractic: A Safer Strategy Than Opioids,' in AHIP Solutions SmartBrief.
AHIP (America's Health Insurance Plans) is a national association representing nearly 1,300 member companies providing health insurance coverage to more than 200 million Americans.
Reaching more than 50,500 subscribers daily, F4CP chose to advertise in AHIP Solutions SmartBrief – the subscription-only digital news briefing created specifically for health plan executives and professionals – to raise awareness of the value of chiropractic care, and in turn, guide health plans to consider more conservative and effective care options for members.
Advertisement run dates are as follows:
August 9th
August 18th
September 8th
To subscribe to AHIP Solutions SmartBrief, click here.
Stay tuned for additional details!
UPDATE: Opioid White Paper Distribution
Since the launch of the F4CP's latest positioning paper, 'Chiropractic: A Safer Strategy Than Opioids,' the white paper has been downloaded 1,373 times.
The F4CP has taken the lead and distributed its paper to a multitude of contacts including national media, its doctor members, professional organizations, health plans, industry leadership, etc.
The F4CP's goal is educational and supportive of consumers who are struggling with chronic pain: conservative, drug-free care, specifically chiropractic, is a primary option for pain management yielding improved clinical outcomes, reduced costs and high levels of patient satisfaction.
If you haven't already, we encourage you to download a copy of the paper here and share its findings with your colleagues.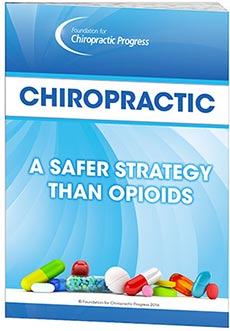 DCs Play Valuable Role at Rio 2016 Olympic Games
With the help of William Moreau, DC, DACBSP, managing director of sports medicine for the United States Olympic Committee (USOC) and chief medical officer for Team USA at the Rio 2016 Olympic Games, the F4CP has issued a press release highlighting the importance of care provided by a doctor of chiropractic (DC) in helping to maximize overall health and maintain peak performance among athletes -- specifically Olympic and Paralympic competitors.
Once again, chiropractic services are being offered to all athletes and their teams as part of the host medical services at the Rio 2016 Olympic Games.
This means that even teams without their own sports chiropractors will have access to official chiropractic services, which will be supplied by an international team of DCs at both the Olympics and Paralympics and led by Marcelo Botelho, DC, MD, ICCSP, MSc, as Team Lead.
"The care provided by a doctor of chiropractic can help athletes reduce the risk of injuries, accelerate recovery time and improve health through improvements in range of motion, flexibility, balance, muscle strength and other key factors. Chiropractic care provides athletes with the competitive edge to fuel peak performance and succeed during their time at the Olympics." – Dr. Botelho
To read the F4CP press release click here.
Social Media ACCELERATOR™ Takes Off
The F4CP's brand-new Social Media ACCELERATOR™ campaign has proven to be a big hit for its members.
The Social Media ACCELERATOR™ has begun building traffic since its inception in March 2016.
This initiative is specifically designed to help our members expand their local practices, and will provide doctors with fresh, relevant and 'ready-to-post' social media content to further educate and inform fans and followers, as well as existing and new patients, about the benefits of chiropractic care.
Each week, the F4CP will deliver brand-new social media messaging to its members, who can simply 'copy' and 'paste' directly to their social media platforms. If you need assistance posting the provided content or setting up personalized social media platforms, please contact F4CP Director of Marketing, Alexis Lignos, at alexis@f4cp.com, who will be more than happy to provide step-by-step instructions.
For additional information about the campaign and its ongoing success, read the press release here.
Contributor Spotlight of the Month: Biotics Research Corporation®
Much of the F4CP's success can be attributed to its contributors. This month, we recognize Biotics Research Corporation for its outstanding dedication and support. Biotics Research Corporation began supporting the F4CP in 2007. To date, Biotics Research Corporation has contributed nearly $100,000.00 to our organization. It is because of our valuable contributors, such as Biotics Research Corporation, that the F4CP can continue to fulfill its important mission, and we are extremely grateful for the ongoing support.
For over 40 years, Biotics Research Corporation has revolutionized the nutritional supplement industry by utilizing "The Best of Science and Nature". Combining nature's principles with scientific ingenuity, their products magnify the nutritional benefits to clinicians and their patients with cost-effective, leading edge supplements and enhanced product performance. They drive advancement by focusing their initiatives on research, natural effectiveness, unparalleled quality control and continuing innovation. They drive practice partnerships by focusing on their customer's success with free educational resources and cutting-edge products resulting in improved patient outcomes. At Biotics Research, creating superior nutritional supplements is just the beginning!
The F4CP encourages individuals, doctors and associations to support organizations that support the profession. To view a list of current F4CP vendor supporters, visit: f4cp.com/contributors.
Doctor Spotlight of the Month – Dr. Lance Cohen
This month, the F4CP spotlights Dr. Lance Cohen for the support he has shown to the F4CP and chiropractic profession.
In 2009, Dr. Cohen became a Cleveland Chiropractic College Los Angeles graduate and annual F4CP contributor.
As a young DC, Dr. Cohen continues to express the value in the F4CP and has recently increased his annual contribution from $15/month to $25/month, aiding in the organization's ability to generate positive press resources -- including press releases, advertisements, print advertorials, television/radio public service announcements and sponsored research.
Additionally, Dr. Cohen has served as an F4CP Board Member since 2013, helping to strengthen the campaign's message, reach and progression.
"I strongly support the F4CP because it is the driving force to advance the public opinion of chiropractic and serves to educate the public about the benefits of chiropractic care." – Dr. Cohen
Athletic TIPS™ Program during CCA Sports & Rehab Symposium
During the 2016 CCA Sports & Rehab Symposium, August 19th-21st, 2016 in Anaheim, CA, Drs. Mindy Mar and Jason Reynolds will lead a two-day Athletic TIPS™ program, offering doctors of chiropractic (DC) CE credit and eligibility for TIPS certification.
During the two-part session, Drs. Mar and Reynolds will address the following topics:
Emergency Medical Procedures (DCs as First Responders)
Concussion Evaluation – On the Field vs. In The Office
Return to Play Criteria
Sports Medicine and Tennis
The dates and times of the program are as follows:
Friday, August 19th
3:30-5:30 P.M.
Saturday, August 20th
8:00am-10:00 A.M.
To register for this program click here.
ACA Distributes F4CP White Paper at National Conference of State Legislatures
During the National Conference of State Legislatures, August 8-11th in Chicago, IL, the American Chiropractic Association distributed the F4CP's white paper, 'Chiropractic: A Safer Strategy Than Opioids' to attendees – which included prominent members of legislature and their staff.
Additionally, the ACA distributed the landmark positioning paper to its members in its June e-newsletter.
The F4CP is sincerely thankful to the ACA for its support and its help in raising awareness about the dangers of opioids and the benefits of alternative care, specifically chiropractic.
More than
15,000 members and

GROWING!

Join state and national groups, colleges, vendors, doctors and students nationwide as a monthly contributor to the F4CP.
ONE MISSION - POSITIVE PRESS FOR THE PROFESSION
F4CP BOARD MEMBERS
Kent S. Greenawalt Chairman
Don Petersen
Gerard Clum DC
Joe Doyle
J. Michael Flynn DC
Marshall Dahneke
Charles DuBois

Fabrizio Mancini DC
Thomas Klapp DC
Carol Ann Malizia DC
Mark Sanna DC
Mickey Burt DC
William Meeker DC
Lance Cohen DC
Greg Harris

Michele Maiers DC, PhD
Brian McAulay DC, PhD
Kray Kibler
Robert Moberg
Kris Dowell
Ray Foxworth DC
Arlan Fuhr DC
F4CP STAFF
Sherry McAllister D.C., M.S(Ed)., CCSP
Alexis Lignos
Megan Kennedy
Marta Cerdan
Nicole Houston
The continued growth of the Foundation is dependent upon more doctors, vendors and students getting involved. All of the monthly contributors can be found at the website. Encourage your list of contacts to join you in support of the profession's successful positive press campaign. Forward this newsletter to them. This campaign is making a difference by informing patients everywhere about the benefits of chiropractic care!! OVER ONE HUNDRED BILLION POSITIVE MESSAGES ON CHIROPRACTIC DISTRIBUTED AND TRACKED OVER THE LAST THREE YEARS!

The Foundation for Chiropractic Progress
P.O. Box 869 | Georgetown, CA 95634 | Toll Free: 866.901.F4CP (3427) | Fax: 866.333.2774
Copyright © The Foundation for Chiropractic Progress All rights reserved.